House of Hope
July 6, 2019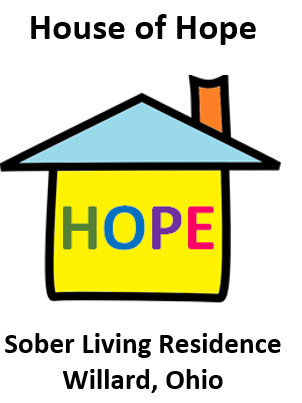 Beginning July 1, 2019, Family Life Counseling and Psychiatric Services, headquartered in Mansfield and with offices in Willard and neighboring communities, will assume operational control for House of Hope, the men's sober living house located in Willard.
Family Life was organized and opened under the direction of Dr. Steven Burggraf in 1999. The agency mission and purpose is to be a respected provider of mental health and substance use recovery services recognized for excellence and exceptional service. Family Life has incurred rapid growth to servicing approximately 4000 families/individuals in north central Ohio this past year, and employing around 140 persons.
We deeply appreciate the efforts of our colleagues Don Peeler and Mike Bell at Starting Point Outreach Center in Willard for having the vision and bringing to fruition this much needed resource in Huron County. House of Hope is actively fulfilling their mission of helping men who are in recovery from drug and alcohol use become productive members of their community by providing transitional housing and support.
House of Hope is a certified associate of Ohio Recovery Housing and has met their quality standards relating to administration and operations, physical recovery environment, connection to community services, as well as peer support and social environment. We intend to operate House of Hope using the same excellent guidelines and procedures that have been established.
Questions, as well as referrals of persons who are in need of sober living can be made to:
Steven Burggraf Ph.D., LPCC-S, IMFT
151 Marion Avenue, Mansfield, Ohio 44907
Phone: 419-774-9969 Fax: 419 756-5642
Cell phone: 419 295-6859
Email: sburggraf.flc@gmail.com
The House of Hope application, HIPAA release and client rights and rules document can be downloaded at: www.flcps.com
We look forward to working with you to support men in recovery and to continue to demonstrate that our state and community is at the forefront of recovery services.
Respectfully,
Steven Burggraf Ph.D., LPCC-S, IMFT
Executive Director, Family Life Counseling & Psychiatric Services
Blog Archive
Related Topics
« Back to Blog
Because of the Raphah Program, my whole life has changed.
"
"
Message Board
"Courage doesn't always roar. Sometimes courage is the quiet voice at the end of the day, saying, "I will try again tomorrow."
~ Mary Anne Radmacher
In the News