Addiction Intervention Program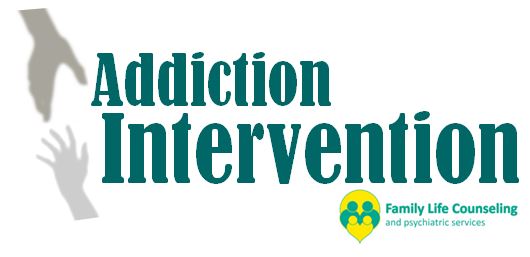 The purpose of Addiction Intervention is to provide guidance and utilize the love, power, and influence of family members and friends.
One of the most unchallenged myths about addiction is that we cannot help addicts until they have hit rock bottom, or until they are ready. An effort to change this thinking, Family Life Counseling and Psychiatric Services will be asking:
"if alcoholics and addicts won't accept help until they are ready, what will it take to get them ready?"
Based off of the nationally recognized program, created by Debra and Jeff Jay, Addiction Intervention is an eight-step program that has proven successful 80-85% of the time.
We believe that all interventions, done correctly, are successful for the following reasons:
The family is united through education and open communication.
The addicted person hears how much her family loves them.
The family members have an opportunity to explain how the addiction has affected them.
The addict learns that the family will support recovery but not addiction.
According to an article published by Hazelden, 94% percent of Americans feel responsible to speak up when a friend is abusing alcohol and/or other drugs. Unfortunately, only 38% of us feel that we have the tools to intervene. On the other hand, based upon a survey of 800 people in recovery, 70% admitted that they stopped using dangerous substances after a family member or friend intervened.
Utilizing our trained interventionists, the program will provide family members a step-by-step program that, if done successfully, will end with their loved one entering in-patient treatment, out-patient treatment, or an after school/work program. The Richland County Mental Health and Addiction Services Board has committed $47,000 to fund Addiction Intervention services for those with addicted loved ones.
To access Addiction Intervention Services please call (419)774-9969.
Call today and create a moment of truth and an opportunity for choosing life and recovery for your loved one.
It could be the step that makes all the difference.
I have learned to trust more and I have respect for myself and others.
"
"
Message Board
"Courage doesn't always roar. Sometimes courage is the quiet voice at the end of the day, saying, "I will try again tomorrow."
~ Mary Anne Radmacher
In the News